Aaron Turner
Tour Date: 25 May - 1 June 2018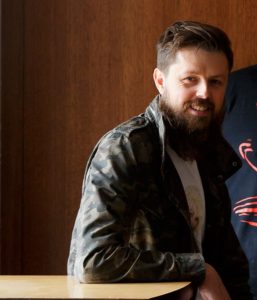 After closing Loam, his acclaimed Bellarine Peninsula restaurant, in 2013, Aaron took an extended break overseas to Nashville, to return back to Victoria to open, not one, but two restaurants in 2016.
The first being The Hot Chicken Project, which Aaron says "is a menu format the same as any hot chicken joint in Nashville, it's just something I really enjoy making and it's delicious."
The second being IGNI – something of a return to the style of food he was creating at Loam when it was named the Regional Restaurant of the Year in 2012. Aaron said he wants Igni to be much more relaxed for the diner while maintaining the same high standards in the kitchen.
Aaron has teamed up with ex-Loamers Andrew Hamilton and Joanna Smith for the Igni venture, so the approachability and the quality of the service is just as central to the business plan as the cooking.
Aaron is known for his innovation and uncanny brilliance of combining uncommon ingredients to create culinary explosions of flavour. He has previously worked in Noma in Copenhagen and El Celler de Can Roca in Girona, Spain, both of which have ranked as No 1 in the World's Best 50 restaurants; so his credentials and experience are impressive, along side his gentle, but cheeky, personality.
In 2017 Aaron took out the GFG Chef of the Year. Dan Hunter, Ryan Sessions, Philippa Sibley and Dave Verheul were his chief competition, so he's rightly stoked to be in such good company. The same awards saw IGNI take the Regional Restaurant of the Year …. not bad for his first 12 months.
2017 will also see the publication of Aaron's first book – IGNI, A Restaurants First Year.  The book captures the daily challenges Aaron faced, from the financial strains, the stress, fear and the pressure of success or failure. His story is told through dated diary entries of his own reflections and the development of his recipes. This is more autobiography than recipe book, with stunning photography by Julian Kingma, who captures the food, moments and brilliance of a determined talented young chef in a new restaurant.
Tastes Of Burgundy is thrilled to have Aaron joining us in 2018; the week is sure to be exciting, fun and full of guaranteed taste sensations. You would be crazy to miss this one!