Guillaume Brahimi
Tour Date: 15 - 22 June 2018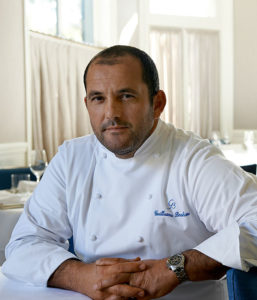 French-born Guillaume Brahimi is one of Australia's most popular and acclaimed chefs. He trained under Michelin-starred chef Joel Robuchon in Paris before moving to Sydney in the 1990s.
In late 2001, Guillaume won the prestigious contract to take over the flagship restaurant at the Sydney Opera House, Bennelong, and, after a refurbishment, opened this spectacular venue in November 2001 as Guillaume at Bennelong. The restaurant went on to win almost every major accolade in Australian food, as well as international recognition. In 2013, Guillaume and his team regained their three- hat status in the 2014 Sydney Morning Herald Good Food Guide, and Guillaume was awarded Vittoria Legend Award for his outstanding long-term contribution to the restaurant industry.
Guillaume at Bennelong had its last service on New Year's Eve 2013 and Brahimi and his acclaimed team opened Guillaume, in August 2014. Located in Sydney's Eastern Suburbs in Paddington.
In 2009 Guillaume formed a partnership with Crown Melbourne and opened Bistro Guillaume. The restaurant won Best New Restaurant in both the Gourmet Traveller 2009 Restaurant Guide and The Age Good Food Guide. In September 2012, Guillaume opened his second Bistro Guillaume in Crown Perth, which also won one hat in 2013.
In 2010, Guillaume authored his first book, Guillaume: Food for Friends, and in 2012 published his second book, French Food Safari, a celebration of the incredible breadth and diversity of French food traditions that was also a television series on SBS.
Guillaume is also renowned for his huge commitment to several charities.  Guillaume is an active board member of The Chris O'Brien Lifehouse and also participated in the 2013 and 2014 Sydney to Hobart aboard the Perpetual Loyal Foundation yacht, which raised a significant amount for charity.
His new book, Guillaume: Food for Family, was released in October 2015, with proceeds being donated to the National Breast Cancer Foundation.
Guillaume first joined Tastes Of Burgundy in 2015 and was an absolute joy to have at the Chateau de Barbirey. By popular demand Guillaume has graciously agreed to return to Burgundy next year to host another wonderful week for ten lucky guests. Don't miss out.