Brent Savage
Tour Date: 26th of May to 2nd June, 2017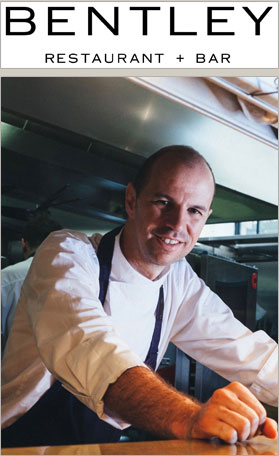 Brent Savage is chef and co-owner of three highly regarded Sydney establishments- Bentley Restaurant & Bar, Monopole and Yellow.
Brent is one of Australia's most respected chefs and restaurateurs, with a reputation for creating exciting and cutting edge food with contrasting flavours and textures. Savage's unique cooking style combines modern techniques and the diverse flavours of Australian produce.
In 2006 Brent and his business partner Nick Hildebrandt opened Bentley Restaurant & Bar in Surry Hills. Bentley was named Best New Restaurant in the 2007 Sydney Morning Herald Good Food Guide and was awarded a coveted two hats for 7 consecutive years. Bentley has consistently been included in the Australian Gourmet Traveller Top 100, ranked as high as 14th best restaurant in Australia.
In December 2013, Bentley Restaurant & Bar re launched on the ground floor of the magnificent Radisson Blu Hotel in the CBD. The edgy interior design of this 100 seat restaurant offers a stunning backdrop to Brent's innovative food and Nick's eclectic wine list. Bentley was recently awarded 2 hats by the SMH Good Food Guide and Brent was named the 2015 Chef of the Year.
Following the ongoing success of Bentley, in 2012 Brent and Nick opened Monopole, a wine bar and eatery in Potts Point. Monopole won its first hat in the SMH 2014 Good Food Guide Awards, was a finalist for Best New Restaurant and was also awarded Wine List of the Year.
In October 2013 the pair opened Yellow, their second venue in Potts Point. Inspired by the Parisian neo-bistro movement and driven by a focus on seasonal, market-sourced produce, Yellow is set in the iconic Yellow House on Macleay Street.
Brent began his career in the Blue Mountains working under Phillip Searle of Vulcan's before moving to Sydney to work at Marque Restaurant. From there he left to open Andrew McConnell's Mrs Jones in Melbourne before returning to Sydney where he was employed as head chef at Moog Wine + Food. During his time there Savage created a reputation for inventive food that was recognised when he was named the Sydney Morning Herald Chef of the Year in 2005.
In 2013 Brent was invited to Restaurant Ikarus in Salzburg, Austria as part of its 'Guest Chef' program. The program invites the most exciting rising talents in the world to feature in the renowned kitchen for one month. Throughout September, Brent worked with the Ikarus chefs and wait staff to bring his unique cooking style to Ikarus diners.
In early 2016 Brent and Nick announced that they would be opening a new seafood based restaurant in Barangaroo. The restaurant is due to open in September 2016.
Brent is the author of a cookbook Bentley: Contemporary Cuisine, a book inspired by recipes created at Bentley and offering the secrets behind recreating Brent's dishes at home.
Career Highlights
Sydney Morning Herald Chef of the Year 2005 and 2015
Sydney Morning Herald Good Food Guide 2007 – Best New Restaurant: Bentley Restaurant & Bar
Sydney Morning Herald Good Food Guide – Two chefs hats: Bentley Restaurant & Bar 2007 to 2013 + 2015
Australian Gourmet Traveller Restaurant Guide – Top 100 Restaurants in the Country: Bentley Restaurant & Bar 2007 to 2013 + 2015
Australian Gourmet Traveller Restaurant Guide – Two Stars: Bentley Restaurant & Bar 2007 to 2013 + 2015
Sydney Morning Herald Good Food Guide 2011 Restaurant of the Year Finalist: Bentley Restaurant & Bar
Australian Gourmet Pages Restaurant of the Year 2010: Bentley Restaurant & Bar
Sydney Morning Herald Good Food Guide 2014 Best New Restaurant Finalist: Monopole
One chefs hat Sydney Morning Herald Good Food Guide 2014: Monopole
Australian Gourmet Traveller Restaurant 2014 One Star: Monopole
Sydney Morning Herald Good Food Guide 2015 – One chef's hat: Yellow
Australian Gourmet Traveller, Top 100: Yellow
The Great Australian Dinner with Rene Redzepi, October 2013
Presenter at Sydney International Food Festival 2009, 2010 + 2011 andSingapore World Gourmet Summit 2011
Guest Chef at Restaurant Ikarus in Hangar- 7, Salzburg, Austria 2013